Customized Nutritional Coaching
At Nutritional Wellness Center, we take nutritional counseling to the next level. These consultative services are a cornerstone of improving health through nutrition, diet and lifestyle changes.
THE POWER OF CUSTOMIZED HEALTH COACHING (THAT WORKS!)
You may be familiar with the "zillions" of specialized or faddish diets, with the cleanses and detoxification programs that promise to transform our bodies and lives. With so many products and programs to choose from competing for our attention and dollars, it can be hard to know what to eat!
Our Customized Health Coaching services are designed to tackle stubborn digestive issues, fatigue, chronic pain, autoimmune issues, food sensitivities, or as a last resort when 'everything else hasn't worked!'
With digestive issues, ranging from heartburn and Irritable Bowel to Crohn's and Colitis, our coaching program will be expertly tailored to these challenges while elevating health and well-being.
Have you been stuck with chronic pain or unrelenting fatigue? Get the customized health coaching you need to address the dietary and lifestyle aspects that may be contributing to your chronic pain or fatigue.
NUTRITIONAL WELLNESS CENTER CUSTOMIZED HEALTH COACHING: A RECIPE FOR HEALTH
Our sessions are designed to fit easily with your busy schedule and active lifestyle. You can complete these sessions from the comfort and convenience of home or in person!
The program comprises a dozen sessions spaced apart according to each client's needs and is available virtually or in person at our office. In everything we do, our coaches account for the unique needs and characteristics that make up each client. You are one of a kind. So, there are no two nutritional plans that are exactly alike. We work closely with our patients to educate them on the "basics" of nutrition, diet, and physiology. Then, we work with you to learn the best approach to fueling your body to achieve an improved quality of life, health status, and those goals that are specific to you.
It is not sufficient for us to get to that optimal state of health only to fail to equip you with the necessary tools to keep you healthy. So, our program spans many different, proven components that make it easy to maintain your weight loss and health status; if they fit your needs, it could include any or all of the following:
A metabolic healing program for optimal energy and vitality.
A hormonal 'reset' diet that helps balance and optimizes hormones so that you feel great and achieve optimal health.
Food sensitivity coaching to locate 'trigger' food and help eliminate food sensitivity so you can enjoy your diet.
Blood sugar management to improve insulin sensitivity so that you can eat foods without crashing or worrying about blood sugar spikes.
A digestive healing program that allows you to improve your digestion and improve your ability to absorb nutrients and utilize food.
How to be "gluten-free the healthy way."
Grocery shopping tips and lists so that you get the food you need for optimal health without spending the day at the grocery store.
How to understand the nutritional labels on products
Modifications to your diet and lifestyle for improved bone health and density.
Techniques to manage stress and anxiety
Body care that is free of toxins
And many more customized methods and coaching to maximize your health potential!
---
How Do We Help You?
Contact the Nutritional Wellness Center in Ithaca, New York, to learn more about nutritional coaching.
---
During your appointment, we will work with you to establish clear, realistic goals. We also discuss the obstacles that stand in your reaching those goals. These barriers might include specific food cravings, sensitivities, or schedules that make it more practical to get prepackaged meals that are easy to cook but have little nutritional value. If we don't address those barriers from the get-go, you may see improvement later or find yourself back on the hamster wheel and unable to maintain healthy habits, lifestyle, and food choices.
By educating you on the nutritional basics and your body's response to what you feed it, you can better understand "why" we may recommend particular strategies to address your specific needs. For instance, we've made these strategies very easy to follow by suggesting yummy alternatives to go-to foods that satiate our cravings for sugars and salt. If you fall off the healthy track, we also give you the tools to get back in the game again. Plans that fit all aspects of your life work seamlessly to accelerate your health, energy, and fitness goals – and simply get you feeling better!
There is no time like the present to connect with one of our skilled coaches today. We can't wait to meet you and introduce you to our approach to Customized Health Coaching, which gets results and works with (not against) your schedule and life.
Nutritional Coaching at the Nutritional Wellness Center explained by Sophie Alexander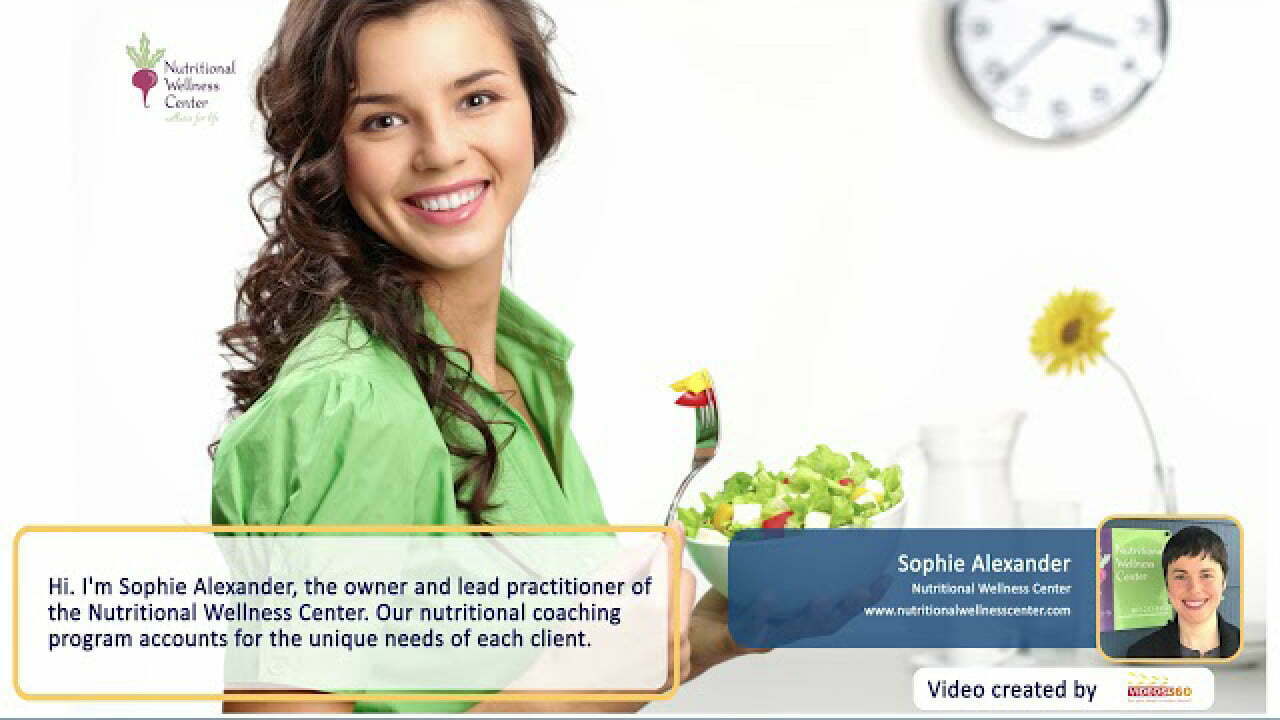 What is Nutritional Coaching, and how can it help to keep you healthy? Watch the video as Sophie Alexander explains all about Nutritional Coaching in this video.
Are you confused about what to eat? Are you trying to eat healthier and don't know where to begin? There's so much conflicting nutrition information available and many fad diets; it's overwhelming.
Hi. I'm Sophie Alexander, the owner and lead practitioner of the Nutritional Wellness Center. Our nutritional coaching program accounts for the unique needs of each client.
Everyone is one-of-a-kind, and thus no two nutrition plans with us are exactly alike. We work closely with our clients to educate them about foundational nutrition and physiology.
Our nutritional coaching sessions are designed to fit in easily with busy schedules and could be completed from the comfort and convenience of home.
Our goal is to empower you about your health. Working with us, you learn the best approach to nourishing your body to achieve an improved quality of life and your health goals.
Call us today to learn more.